乐开怀圣诞天地
December 7 | Saturday | 2:30PM | GCC Level 3 Lobby
乐开怀圣诞天地,锁定60岁以上的长辈们,来享受好好玩的圣诞欢庆!透过不同游戏站来完成任务,收集点数换取精美礼物。若是第一次参加乐开怀的长辈,还能获得新朋友礼物哦!玩累了可以歇一会,拍拍照再享受一下茶点。就是要让长辈们开开心心过圣诞!
–
The Joy Club Christmas Funfair is an event for elders age 60 and above. It's an event for them to enjoy this joyous and fun Christmas Celebration! You will be able to collect points from the various game stalls, and the collected points can be used in exchange for some lovely gifts! As for our new friends that will visit us for the first time, you will get something special from us! Have we mentioned that refreshments will be served too? Come and have fun with us!
GK Snacky Wacky Christmas Party
December 15 | Sunday | 9:15AM | GK Hall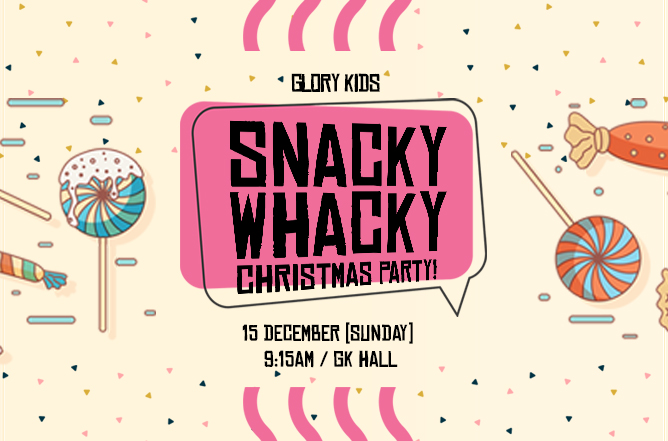 Glory Kids (aged 13 and below) will be celebrating Christmas by sharing lots and lots of snacks! All the Glory Kids will be bringing as much snacks as they can and there will be a big snacks feast together! This will be the best Christmas Party in town with songs, funny stories, gifts and games!
–
荣耀儿童好吃零食圣诞派对,欢迎13岁以下的孩童参加!当天请尽量多带零食一起来分享。除了好吃的零食,我们当天也有圣诞颂、搞笑短剧、游戏以及礼物等着你!
Christmas Fiesta
December 15 | Sunday | 3PM | GCC Compound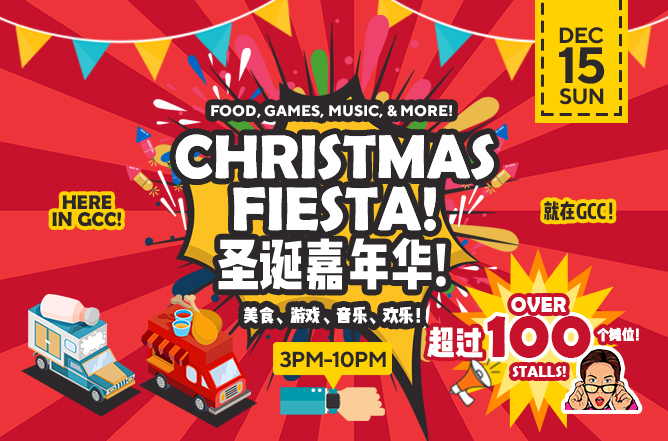 It's the best time of the year again! Join us for a celebration of life, joy and fun with over 100 stalls, ranging from games, to food and beverages, and goods and services! Don't forget to bring along your friends and family!
–
又到了年度最佳节日!欢迎你来参与我们,在这圣诞嘉年华欢庆生命、喜乐和欢乐。超过100个摊位,从游戏、饮食、商品和服务摊位,任君选择。记得邀约你的朋友家人一起来!
DC Christmas Party
December 20 | Friday | 7:30PM | Level 3 Lobby
The Discovery Club Christmas Party is a gathering of youths to celebrate and wrap up the year of 2019! There will be dinner, a gift exchange, performances by our very own Discovery Club peeps, and also awards to recognise those who have stood out and contributed throughout the year! It's gonna be filled with a lot of laughs and maybe a few happy tears along the way!
Join the Discovery Club Christmas Party happening this 20th of December (Friday) from 7:30 PM happening at the Level 3 Lobby. Tickets are available at RM25.00. For more info, you may contact Nehemiah Yap at 010 9511 601.
Christmas Sunday
December 22 | Sunday | 9AM | Level 3 Auditorium
Building up to our climactic event of the year is our Christmas Sunday Service on the 22nd of December at the GCC Main Auditorium at 9:00 AM. This event is all about preparing us for our Christmas Eve Service, filled with life, joy, and fun! A final bit of encouragement to invite our friends to experience what home is all about before one of the biggest days here in GCC!
–
圣诞欢庆主日—全年最受瞩目的活动将在12月22日早上9时进行。当然,我们也将一起在生命、喜乐和欢乐中踏入平安夜聚会。欢迎来参与我们,在家里一同欢庆这圣诞佳节!
Christmas Eve Service
December 24 | Tuesday | 9PM | Level 3 Auditorium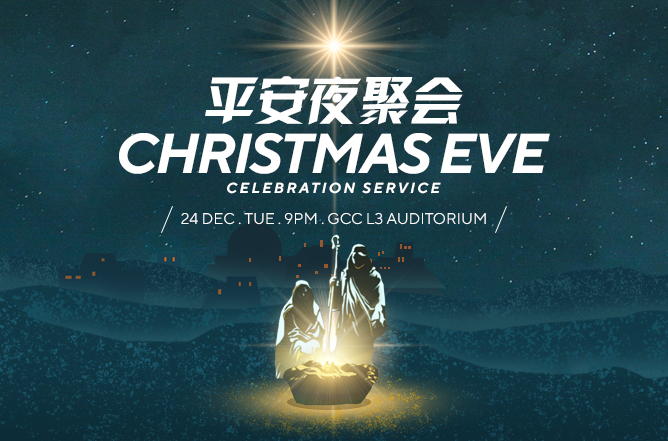 The Christmas Eve Service is definitely one of the biggest events here in GCC, the climax of all our Christmas events! There will fun for people of all ages even before service starts as we'll be having game stalls, live music, and refreshments at the Level 3 Lobby at 8:00 PM. We encourage everyone to come early so that you won't be in a hurry looking for parking space!
And as we come home this Christmas, be ready to experience live performances by our very own Glory Kids and heI Creative Ministry, and to prepare our hearts for the word that will be given to us and our friends this Christmas season, be it from praise and worship, or from our very own Senior Pastor, Rev Dr William Vun.
Come through this 24th of December at the GCC Main Auditorium.
–
GCC圣诞欢庆压轴 – 12月24日平安夜聚会,晚上9时在GCC 三楼大堂。欢迎成人孩童参与我们。聚会前,3楼大厅将设有游戏摊位,现场音乐及茶点招待,鼓励大家提早到场。晚间节目,我们有来自荣耀儿童以及heI创意事工的特别呈献。还有敬拜团带领我们歌唱,以及主任牧师温牧师将与我们分享圣诞信息。诚心邀请大家同来欢庆共襄盛举。